If you're looking for the perfect marriage of ruggedness and comfort, situated in an area that's perfect for an abundant range of outdoor activities, Sno Shu Inn welcomes you. We've worked hard to make our cabins welcoming, comfortable and affordable, so you can lodge with us while you enjoy the getaway you've been looking forward to.
Trips, Vacations and Getaways
Looking to lodge with us for more than just a day or two? Our cabins, apartment-style lodging and inn also double as affordable vacation rentals in Hulbert, MI! You can bring your best friend or the whole family up to our cabins to spend a few days or weeks enjoying the bounty of nature. Our cabins will provide the shelter you need, while you spend your time relaxing however best suits you.
Our Conveniences
In addition to providing furnished cabins and lodging opportunities at a fair price, we've also worked hard to create a destination that people enjoy spending time at. Some of the other conveniences and amenities we offer include:
Trailhead access right from your cabin
A public pavilion with group-style fireplace
River access for kayaking and fishing
Our camp is located just one mile north of Hulbert Corners and M28, 18 miles east of Newberry and 35 miles west of Sault Ste. Marie. Make a quick trip to stock up on groceries or supplies, then venture back to our little corner of heaven to continue enjoying your stay.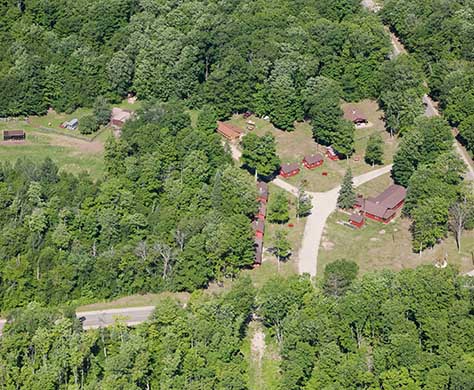 Book Your Accommodations
Thinking about booking some time away? Whether you're a winter adventurer or in charge of planning the family's summer trip, Sno Shu Inn welcomes you. Contact us today at 906-876-2324 for more information about rates and rental terms.