Cabin Rentals in Hulbert, MI
Welcome to Sno Shu Inn Cabins, the perfect destination for a cozy getaway in the charming town of Hulbert, MI. Each of our 8 cabin rentals are complete with a microwave, refrigerator, coffeepot, toaster and shower while some have full or efficiency kitchens. Exciting activities like ATV rentals await you at the Sno Shu Inn as our guests have easy access to miles of snowmobile and ATV trails as well as hiking, kayaking and canoeing. Call Sno Shu Inn today to reserve your vacation cabins. We look forward to hearing from you!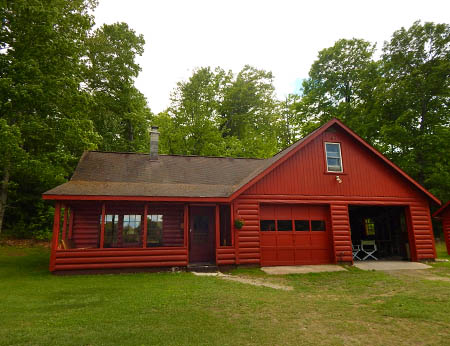 Sno Shu Inn
Located among the hardwoods of Michigan's Eastern Upper Peninsula, the Sno Shu Inn is your destination for a peaceful escape. Our vacation cabins accommodate groups from 2 to 20 people, offering you access to a wide range of outdoor activities throughout all 4 seasons. Explore the great north before retiring to our well-maintained cabins for rent. Contact us today for rates and reservations.
Beautiful Cabins for Rent
Sno Shu Inn is your destination! We have 5 one-room vacation cabin rentals available 1 two-bedroom cabin, as well as 1 bedroom apartment-style cabin and an Inn, comprised of 3 bedrooms and 2 baths. Both the apartment and the Inn have full kitchens and living rooms. We will make sure you get the lodging that's right for you. Plus, we're priced for your budget, ensuring your stay with us is as affordable as it is enjoyable!
Our vacation cabins are the perfect destination for activities throughout all 4 seasons. Hunt, hike, camp, ATV, snowmobile and more while you're with us.
All of our cabins have wood burning stoves for your comfort and enjoyment!
Our cabins for rent are nearby local, groomed trails and are conveniently situated for both vehicle access and trail access.
Our 8 cabin rentals are come complete with toaster, microwave, refrigerator, coffeepot and showers.
We welcome families, groups of friends and even individuals, with cabin rentals that accommodate 2 to 20 people!
Enjoy a Cozy Getaway
No matter the season or the outdoor activities you enjoy partaking in, Sno Shu Inn is your destination for a fun, friendly getaway. If you're visiting Hulbert, Newberry, Sault Sainte Marie, Eastern Upper Peninsula, or Chippewa County contact us today to reserve a cabin or to inquire about rates.